Business Photography: A Veterinary Hospital
What's it like to take your fluffy family members to the doctor? Here are some photos to tell the story.
I walked in, and right away I knew this was going to be fun. It would be a different kind of session. A gathering of cats and dogs we're all exploring the room, looking at me, at each other, and sniffing every corner. I have a cat, and have had a dog, so none of this is unfamiliar to me. It adds a level of excitement to the room. If you're an animal person, you immediately let your guard down, and try to connect.
Dr. Coryn Vickrey is a veterinarian in Westford, MA. She had bought the hospital a few years back, and wanted to rebrand the business, to bring it more in line with her ideals. She asked me to come in to get photos of the staff and the hospital.
The animals are why everyone is here. If you have a pet, you know they are a member of the family. People come to the vet to keep their pet healthy, and for care when there's a problem. There is often concern on the faces of the people here. Most of them leave relieved, but confidence in the doctors and staff here is paramount when issues arise.
I couldn't blame you if you guessed all the staff members had pets. Doesn't it make sense that we would photograph each person with their pet? After all, that's the story of this place. It's about how much they care for the animals; their own, and the patients that come in.
That immediately makes things both easier and more difficult for me as the photographer. I'm often trying to get people to feel and look a certain way. I want them to relax and be themselves. Sitting in front of a camera is not easy for most people. But sharing the spotlight with a furry friend immediately reduces the tension. There is no need to rely on imagination or a memory. A trusted and beloved friend is right there. There are scientific studies about the reduction of stress a loving pet provides, and it's visible right away.
Of course, the other side of it is that now we have an unpredictable animal in the frame. These are pets, so we are not worried about any danger, but the animals have a mind and a will of their own, so if they don't feel like sitting, they get up and move. They also don't take directions very well…
Once everything is set up, I rely on the knowledge and skill of the staff. They deal with animals every day, and generally in much more stressful situations than just sitting for a quick photo! Peanut butter was our secret weapon. Not only did it command attention, it afforded some interesting looks from the animals.
This is no more apparent than when Josh was the subject. Josh is the hospital's resident cat. While the power of peanut butter is strong, Josh is still a cat, and once he lost interest, he was gone.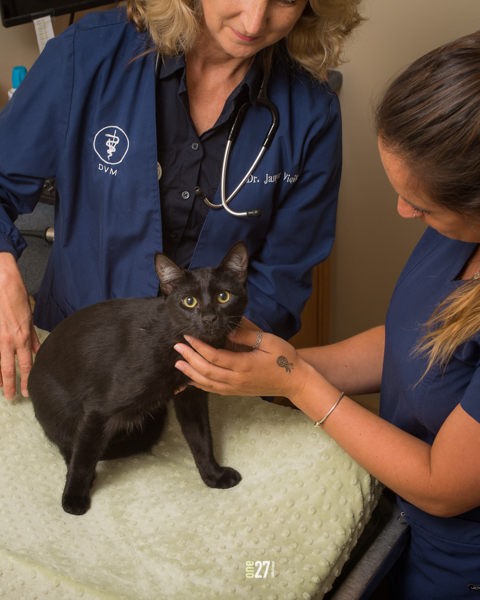 Rather than just jump away, I think this guy was pleading with the "Are we done yet?" look.
The headshots were pretty straight forward. I set up a 2 lights, the background gelled blue, and the main light warmed slightly to add a little color and contrast.
Then we moved on to the "action shots". This is where we really try to tell the story of a place. How does it feel to be a customer? What's the personality or vibe in the exam room?
Planning is key here. We came up with a few typical scenarios of a pet visit. We decided on the location of the shot, moved any items we didn't want, set up the lighting, and took test shots. One of the staff stood in so we could see how the light worked. We did this with each location we shot. We got as ready as we could before bringing in the animal.
These images are all about the interaction between doctor and patient. Dr. Coryn wanted to show some animals in common situations, and try to get the idea across that they are very gentle with the animals, and do everything possible to make the visit as low stress as possible.
No animals were harmed in the making of these images! This is a staged mock surgery with a willing subject. He was very happy to have a rest under the blanket and dim lights.
Dr. Coryn was happy with what we were able to show about her hospital in about a half day's session. The photos are sprinkled about the Whole Pet Vets web site. Have a look!
---
---