The Value of Photographic Coverage
There are so many places I have on my bucket list to visit, I'm sure I won't get to them all. On the other hand, there are so many places around where I live that deserve to be explored, I'm sure I won't get to them all!
There is no shortage of beautiful photography online. You can search on any subject and find breathtaking images. If you are a new or aspiring photographer, it is easy to feel like you can't compete, or your images will never be as good as those that get to travel or live near the "exotic" locations.
There are also many articles online about shooting close to home. You may feel that everything around you is just too plain or uninteresting. This is absolutely the wrong approach! Photography is about light, and form, and contrast, and mostly about seeing. What you see every day is completely new to most others. You just need to find a way to show off what's beautiful about your "plain" location.
Cell Tower Across The Pond
I've found this to be a great exercise in both seeing, and a great way to improve your photographic skills. The first thing to consider is what is different about your location, and how can you leverage those differences to show others what you see. This planet has so many different climates, terrain features, and weather, and you are the expert of what happens where you are most of the time.
Farming and Technology in New England
I live hear in New England. We don't have the canyons of the southwest, or the beaches of the tropics. We do have a great contrast of seasons. We have warm beach days in the summer, beautiful color changes in the fall, and the cold starkness of snowy winter. That means if you just choose a location, it will look considerably different, maybe not every day, but often.
Sunset Over the Tower
Not too far from my house is a set of rolling hills with a cell tower on top. The area I live in is often referred to as Apple Country, due to the abundance of apple farms. New England is also a tech hub. Combining these 2 opposing ideas is something I find interesting, so the cell tower on the hill fits into the personality of the area. But what is the best way to show it off?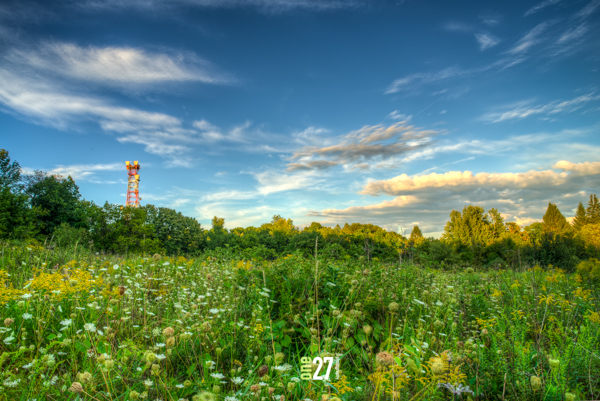 The Field Below the Tower
This is where the idea of coverage comes in. We really don't know the best view until we try a few. Or maybe more than a few. Or maybe a whole lot! I said this was New England, and the weather changes often. The light changes often, The seasons change regularly. What if we shoot this location in different light, in different seasons, from different angles! This has become somewhat of an ongoing project for me. Whenever the light looks different, it is a spot I return to for a new look.
The Tower during a snow storm
Do you have a local spot you can make a project out of?
---
---