Photography in the Parking Lot
I teach a summer photography camp for kids through the local community education department. The kids range in age from 10-14. The program asks that each kid come with a camera and hopefully, some interest in photography.
What that means is that when I show up for the first class, I really have no idea what I will find.
As you might expect, each kid has a different camera. The majority tend to be simple point and shoot models, and every once in a while someone will come with a mirrorless, or even a DSLR model. The range of interest in photography is about as varied as the camera models.

The first item of business is to make sure each kid has their camera, and the battery is charged. Next, I need to inspect the memory card to make sure we have some method of photo download. Most come with SD cards, that fit nicely into the slot on the iMacs we have available, but there are always a few others. Some come with cables, but alas, there is always one with no connection capability. We work through the day, and just ask a parent to bring it the next day. We get through it!
The challenge for a camp like this are these 2 items: what camera, and how much interest?
Due to these limitations, I focus mainly on light and composition, and take the technical concerns out of the discussion. Sure, we spend a few minutes on the first day with an explanation of shutter, aperture, and ISO, and briefly explain depth of field, but I generally leave it at that. More time is spent discussing the rule of thirds, leading lines, color, form, and texture. After that, I let them loose, and see what happens.
There are some paths through the woods near the school, there is a frog pond in the woods, and many flower beds around the school. We spend about 90 minutes outside each day, then return for processing. Each day we have a basic plan, generally focusing on some aspect of composition.
One of the days we come to class, I smile at the confused faces as I tell the kids we are going to shoot in the parking lot. I explain that it is a great exercise, and review the concepts of rule of thirds and leading lines once again. I encourage anyone to try this exercise, as there are many great abstract image possibilities!
In another post I'll share some of the photos from the kids. Here are a few of my shots from the parking lot. Feel free to share some of you own.
parkingLot-the grill pattern
parkingLot-abstract colors and reflections
parkingLot-lines and contrast on wheels
parkingLot-The leading lines of a bumper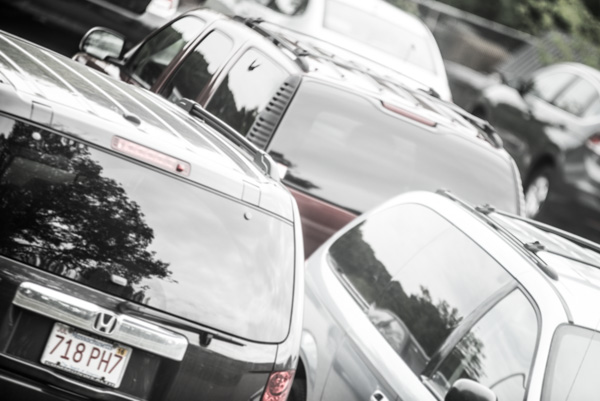 parkingLot-light and reflections in a parking lot photograph
---
---